"Watch This Video And Download My 3 FREE Pleasure Reports On The Expanded Orgasm Practice Below"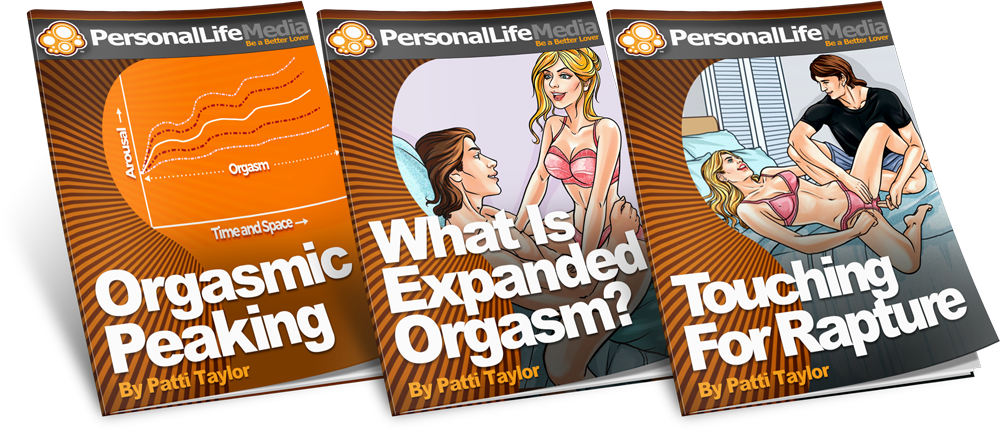 Dear Lover,
Sensual massages are not just for pleasure. They're also great for healing emotional issues that so many of us women experience.
And one of the best and most powerful sensual massage techniques I know is called the "Expanded Orgasm."
It was created by my mentor, Dr. Patti Taylor, who has a Ph.D. in female orgasm.
You see, a lot of women don't live up to their orgasmic potential.
We have sex too fast and end it too soon. And before that, we don't warm ourselves up and turn ourselves on enough for our genitals to get engorged and filled with blood.
Blood flow and engorgement are super important for sexual satisfaction and achieving better, more fulfilling orgasms.
When you get better at having a practice of giving yourself a sensual massage, or even better, receiving sensual massages from your partner — you get better at fully surrendering to your partner during lovemaking.
This connects you both as lovers like nothing I've ever experienced — and like nothing else I teach in my other programs.
This Couples Practice Deepens Intimacy
And Helps You Become More Heart-Connected
The Expanded Orgasm practice allows lovers to
build more desire for each other
because it makes sex less "transactional." Lovers feel less pressure and less performance anxiety.
Part of the process of having this Expanded Orgasm practice is decoupling intimacy and sexual pleasure from actually having intercourse. The woman will begin to have the experience of receiving this sensual massage without there being any expectation of sex on the man's side.
This practice could last 5 minutes, 15 minutes, half an hour, and you're done if you want.
And while regularly doing this couples practice ultimately leads to having more pleasurable sex with each other, it comes from actually decoupling it from the expectation that it leads to sex.
This allows lovers to connect in a way that, for many women, they've never had with a man before — and for many men, they've never had the chance to actually just give pleasure.
The act of giving pleasure without the expectation of receiving pleasure shifts something in your relationship like nothing I've ever experienced before.
This saved my marriage. That is why I want all lovers to experience this for themselves.
This Will Change Your Relationship
And Sex Life For The Better
Dear Friend,
Are you ready for me to thoroughly brief you on the concept of Expanded Orgasm now? Sounds good, doesn't it?
To show you that Expanded Orgasm is truly a unique practice, I've created a little explanatory "mini-course" called "What IS Expanded Orgasm?"
I'll send it to you for FREE so you can see that it's going to be right for you. Just fill in your email address below.
When you get the email from me, Dr. Patti, you can click through the link and download additional juicy Pleasure Reports:
"What IS Expanded Orgasm?"
"Touching for Rapture" and
"Orgasmic Peaking"
Then, if you think it might be right for you to experience longer, more powerful, and more partner-connecting orgasmic pleasure than you ever imagined, you can come back and buy the step-by-step program that you can access immediately in the privacy of your own home.
This unique clitoral stroking approach empowers YOU to
give her the best multi-orgasmic pleasure she's ever experienced…
and will reward YOU in ways you never imagined.
FREE eBook
1
"Expanded Orgasm Revealed"
How is an Expanded Orgasm different than a "regular" orgasm?
How a woman can stay in Expanded Orgasm for 5, 10, 30, 45 minutes or longer!?!
8 Reasons the Expanded Orgasm focuses on manual, clitoral stimulation.
FREE eBook
2
"How Expanded Orgasm Can Take Your Love Life to the Next Level and Beyond"
This little eBook will change your life.
Want to have more sex? Better sex? Fill her up with amazing orgasms and she'll fall in love with you all over again.
In this free eBook, you learn how Expanded Orgasm works and why it's a clitoral stroking technique that can escalate her orgasmic pleasure higher and higher with stacked, multiple orgasms.
Giving her all those orgasms creates a massive win:win in your sex
FREE eBook
3
"Touch for Rapture"
Dr. Patti explains how you'll feel into her sensation as you stroke her using Touch for Rapture, the methodology.
This eradicates the fatigue that often accompanies manual or even oral pleasuring, allowing your woman to keep coming and coming.
"The Power and Pleasure of Orgasmic Peaking"
Peaking is a way of increasing her sensation, by "skipping a beat" in your stroking.
Take her higher and higher with this Key to Expanded Orgasm.
My
Expanded Orgasm
program stimulates your mind with many learning modalities, including amazing audio lessons, explicit video tutorials, and a Master Sensual Practices Manual to show you exactly what to do!
Just enter your email below and I'll send you the free mini-course and the 3 free Pleasure Guides.
With Love,

Creator of "Expand Her Orgasm Tonight: 21-Day Program for Partners," and the "Seduction Trilogy:" "Seduce Her Tonight", "Seduction Accelerator", and "Her Sexual Trainer"
P.S. You can unsubscribe ANYTIME with a single click if you decide not to continue to receive goodies and free information from me.
P.P.S. We love to prove to you that we have super high-quality content, advice, exercises, techniques and strategies that will literally change not just your sex life, but your whole life, for the better.